[vc_row][vc_column][vc_column_text css=".vc_custom_1660339191844{margin-bottom: 0px !important;}"]
Preparation Time: 45 minutes for the jam and 15 minutes for the burgers
Refrigeration Time:  2 to 24 hrs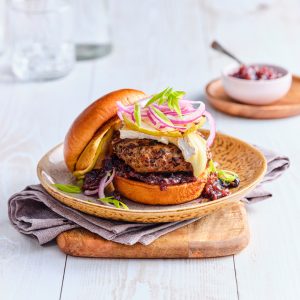 Grilling Time: 8 to 10 minutes
Serves 8
Bacon Jam (use store bought or make my tasty version below)
8 slices bacon, chopped in a rough dice
1 medium onion, diced
2 cloves garlic, minced
½ cup brown sugar
½ cup blueberries, fresh or frozen
1 oz apple cider vinegar
¼ cup water
To taste salt and pepper
Veal Burger
2 lbs ground veal
¼ cup red onion, diced
2 tbsp fresh dill, chopped
1 tbsp Dijon mustard
1 Tbsp prepared horseradish
To taste, salt and pepper
Garnish
2 to 3  tart apples, sliced
8 slices brie cheese
1 medium red onion, thinly sliced
3 green onions, sliced on the diagonal
8 good burger buns, I used brioche buns
Instructions:
Bacon Jam:
Pan fry the chopped bacon on medium heat until browning but not crisp. Drain off the fat and set aside. Set bacon on paper towel. Sauté onion in 3 tbsp of the reserved bacon fat over medium heat until caramelized.
Add in the bacon, brown sugar, and blueberries. Continue the sauté until the blueberries begin to break down and the mixture begins to thicken.  Add in the Apple Cider Vinegar and about ¼ cup of water.
Continue the cook until the mixture has thickened and smells of bacon and blueberries. This can take anywhere from 20 minutes to an hour depending on the blueberries you use. When you are happy with the thickness add salt and pepper to taste. If you want to cook it down further add a bit more water and then cook til it's where you want it.
For an extra hit of flavour finish with a tablespoon of a good Balsamic Vinegar. Place jam in a jar. Leftovers are great on a veal chop.
Veal Burger
Combine all the ingredients in a large bowl and mix well with gloved hands. Using an ice cream scoop, form the mixture into 8 patties. Pack mixture into the scoop and tap to remove any air. Form rough patties and set on a tray. Cover and refrigerate at least 2 hrs or overnight.
Remove the patties from the refrigerator, spray or rub with the oil of your choice, I use duck fat.
Press patties down gently until patty is evenly about ¾" to ½" thick. Press in at the sides if need be.
Patties will cook more evenly if they are evenly thick from side to side. Consider the size of the buns.
Preheat grill to medium and set the patties on the grill. Cook 3 to 4 minutes and then flip patties over.
While patties are cooking, lightly grill 8 slices of apple on both sides.
While the patties continue to cook, spread the bacon jam generously over the bottom of each bun.
Top each patty with a slice of brie and then a slice of the grilled apple.  Add a dollop of the jam and then sliced red and green onions.
Add the bun top and enjoy.
Internal temperature should be at least 160℉.
[/vc_column_text][/vc_column][/vc_row]