[vc_row][vc_column][vc_column_text css=".vc_custom_1668522575802{margin-bottom: 0px !important;}"]
Serves 8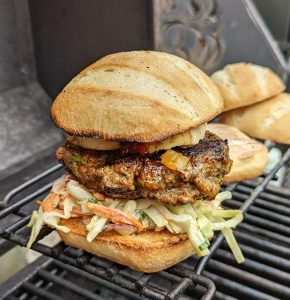 Voodoo Relish
2 large red bell peppers, cut in half and seeded
1 medium sweet onion, sliced into rounds
1 tbsp olive oil
4 hot red finger chili peppers
1 tbsp crushed red chili peppers
2 cloves garlic, minced
½ cup hot red pepper jelly
1 tsp hot sauce
Makes approximately 2 cups
Preheat grill to medium high approximately 450-550 degrees F. Brush peppers and onions lightly with olive oil. Grill peppers and onions for 10-15 minutes, turning occasionally until lightly charred and tender. Remove from grill and allow too cool.
Dice grilled red peppers, onion and red finger peppers and place in a medium sized saucepot. Add crushed red chilies, garlic, red pepper jelly and hot sauce. Bring mixture to a slow boil, stirring to keep from scorching. Season to taste with salt and pepper and set aside keeping warm. Remove from heat and cool. Cover and refrigerate until needed.
The Burger:
2 lbs ground Ontario Veal, kept icy cold
2 tbsp + 4 tbsp BBQ seasoning rub
½ cup finely diced onion
3 cloves garlic, minced
2 tbsp fresh parsley, chopped
2 tbsp melted butter
6 buns
Smoked Cheddar Cheese, grated (optional)
In a bowl combine icy cold ground veal, 2 tbsp BBQ seasoning rub, onion, garlic, parsley, and voodoo relish. Form into six 4-ounce burgers, approximately ½ inch thick and 4 inches in diameter. Brush the burgers with melted butter and sprinkle liberally on both sides with remaining BBQ seasoning. Refrigerate for at least 30 minutes.
Preheat griddle pan on the BBQ to medium high heat. Place burgers onto hot griddle and cook for 2 to 3 minutes per side until well done but still juicy. Toast Buns.
Assemble your Burger, add blackened veal burger, voodoo relish, smoked Cheddar cheese to your bun and garnish with your other favorite burger toppings or coleslaw!
[/vc_column_text][/vc_column][/vc_row]