Serves 2 to 4
2 x 16 oz bone in Ontario Veal Rib Chops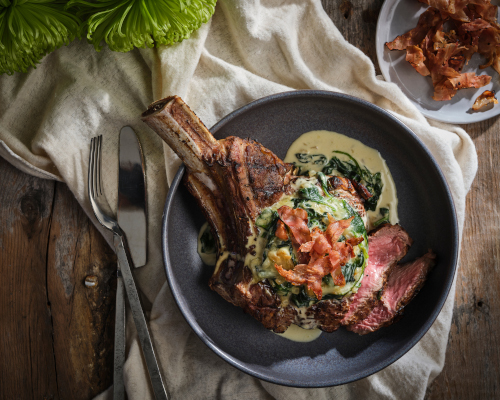 5 tbsp olive oil, divided
4 tsp steak spice
2 tbsp fresh chopped dill
2 tbsp butter
1 medium sweet onion, finely diced
4 plump cloves garlic, minced
12 oz baby spinach
1 oz marsala wine
1 cup 35% whipping cream
½ cup shredded provolone or mozzarella
¼ cup grated parmesan cheese
¼ cup chopped fresh chives
Salt and freshly ground black pepper to taste
4 slices prosciutto
Brush rib steaks with 3 tbsp of olive oil on all sides. Season with steak spice and fresh dill and set aside for 30 minutes.
Fire up your grill to high. Grill veal for 5 to 6 minutes per side for medium rare doneness
While the steaks are cooking add 2 tbsp of olive oil and the butter to a heavy bottomed fry pan and saute the onions and garlic for 1 to 2 minutes until tender. Add in the spinach, a handful at a time, turning over the mounds with a pair of tongs as it wilts. Saute baby spinach for 2 to 3 minutes until the leaves are just starting to wilt. Add in the marsala wine and let it boil. Add the whipping cream and return to a boil, stirring and reducing cream by 1/3. Add in provolone and parmesan cheese, mixing well as it gets a little cheesy. Add chives and season to taste with salt and freshly ground black pepper.
While the steaks are grilling, grill the prosciutto for 2 to 3 minutes per side until crispy, set aside
To serve, spoon creamed spinach over rib steak, add 2 slices of chopped grilled prosciutto and serve immediately.
Source: Ted Reader BBQ (TedReader.com)