Serves 6
Tip: If using wooden skewers be sure to soak them in cold water for 1 hour. This will help keep the skewers from burning on the grill.
Gear:
6 metal skewers or hard wood skewers (12 inches long)
Butcher's twine
Ingredients:
3 lbs (1.5 kg) top sirloin Canadian beef roast or steak, cut into ½ inch thick, 4-to-6-inch strips, approximately 48 pieces
1 bottle stout beer
8 cloves garlic, minced
2 tbsp brown sugar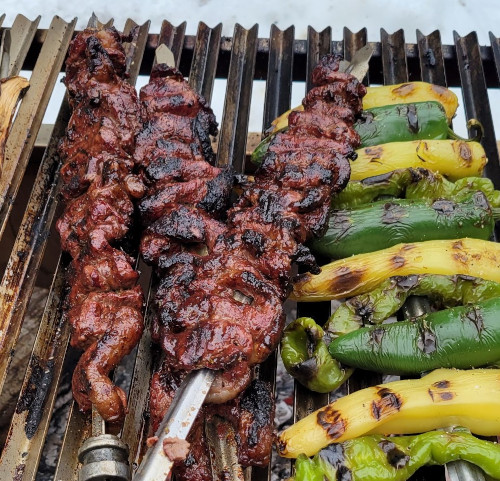 1 tbsp chopped, fresh rosemary
1 tbsp prepared horseradish
1 tsp cracked black pepper
1 tsp red pepper chili flakes
2 tsp kosher salt
2 tbsp olive oil
1 big bunch, fresh rosemary
Stout Beer BBQ Baste
½ cup stout beer
½ cup brown sugar
¼ cup honey
2 tbsp ketchup
1 tsp Worcestershire sauce
2 cloves garlic, minced
Pinch kosher salt
Pinch freshly ground black pepper
¼ cup butter
½ cup crushed salty pretzels
Using a sharp knife, cut the top sirloin into ½ inch thick long slices. Nice and uniform in shape so that they cook evenly. Place the strips of top sirloin into a self-sealing plastic bag. Pour in the bottle of beer, garlic, brown sugar, rosemary, horseradish, black pepper, chili flakes, salt and olive oil. Seal bag and gently mix so that the beef is evenly coated. Place in refrigerator and marinate for 2 hours.
Soak wooden skewers for 1 hour in cold water.
Remove beef from beer marinade, discarding leftover marinade.
Thread the pieces of marinated beef onto each skewer and set aside for 30 minutes.
Take the bunches of rosemary and tie them together at one end with butcher's twine to make yourself a rosemary basting brush. Set aside.
To prepare the Stout Beer BBQ Baste, combine the beer, brown sugar, honey, ketchup, Worcestershire sauce and garlic in a small saucepot. Then season to taste with salt and pepper. Bring to a low boil and add in the butter. Remove from heat and stir until the butter is incorporated. Set aside, keeping warm.
Preheat grill to medium-high, approximately 450F-550F (230C-280C).
Grill beef skewers for 2-4 minutes per side rotating the skewers at least 3 times. Using the rosemary basing brush, baste liberally with the reserved Stout Beer BBQ Baste.
Remove from grill Sprinkle with crushed salt pretzels and serve immediately.
Source: Ted Reader BBQ (TedReader.com)