Ingredients: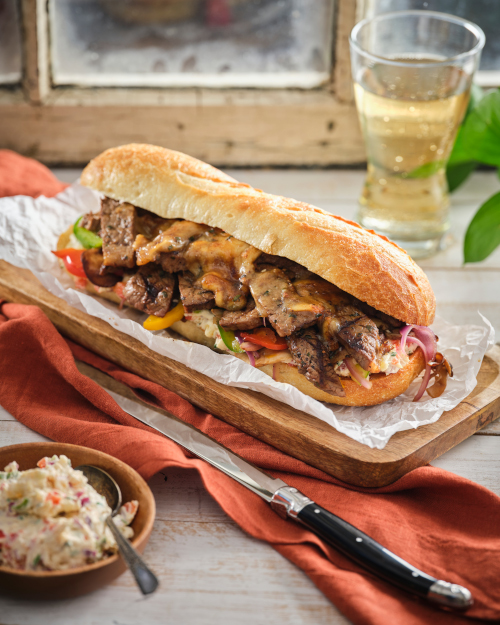 Pimento Cheese Spread
1 cup softened cream cheese
½ cup shredded smoked provolone cheese
½ cup diced roasted red pepper
¼ cup finely diced red onion
1 green onion, minced
1 tbsp chopped fresh chives
Splash lemon juice
Salt and pepper to taste
Veal Scaloppini
12 slices Ontario veal scaloppini, (about 1 1/2 lbs)
3 tbsp olive oil
1 tsp granulated garlic
1 tsp ground black pepper
1 tbsp chopped fresh sage
1 tbsp chopped fresh chives
4 six-inch demi-baguettes or submarine buns
Garnish
2-3 tbsp olive oil
2 cups, white or brown mushrooms, quartered
2 onions, thinly sliced
4 cloves garlic, minced
1 of each red, yellow, orange, green peppers, julienne, thinly sliced
2 tbsp chopped fresh chives
Salt and freshly ground black pepper to taste
2 cups shredded or 8 slices smoked or plain provolone cheese
Method
Pimento Cheese Spread
Combine the cream cheese, provolone cheese, roasted red pepper, diced red and minced green onion, and chives in a bowl. Season to taste with a splash of fresh lemon juice, salt and freshly ground black pepper. Set aside to let the flavors develop.  
Veal Scaloppini
Using the tip of a sharp knife, diamond-score each slice of veal scaloppini on both sides; this will allow the flavours to penetrate and the high heat from the grill to quickly sear and cook the veal. Mix the olive oil, garlic, black pepper, sage, and chives in another bowl. Mixing well, combine the veal scaloppini slices with the marinade and refrigerate while preparing the rest of the recipe.
Garnish
In a heavy-bottomed fry pan, heat the olive oil over medium-high heat. Sauté the mushrooms for 3 to 4 minutes until they are lightly browned. Add the onion and garlic, continue to sauté for 3 to 5 minutes, stirring until lightly browned and tender. Taste. Add salt and pepper to season as desired. Add the sliced peppers and continue to sauté for 2 to 3 minutes until tender. Add some fresh chives and set aside to keep warm.
Warm-up a second heavy-bottomed frypan; over medium-low heat, slowly melt the shredded cheese, once it has softened, set aside, and keep warm.
Fire up the grill to high.
Grill the Ontario veal scaloppini slices hot 'n fast, about 2 minutes per side maximum, until lightly charred and tender. Stack the veal and slice it into 1-inch-wide strips. Combine the still warm sliced veal with the melted cheese to make an ooey-gooey mix.
Slice the demi-baguette or submarine buns in half and brush cut side with olive oil, lightly toast on the grill. Spread 2 tbsp of the pimento cheese spread onto one side of the baguette, top with sautéed pepper, onion, and mushroom mixture. Add the cheesy veal scaloppini cheese mixture, place the top bun, and serve immediately.
Source: Ted Reader BBQ for OntarioVealAppeal.ca