This is an easy recipe to make a tasty batch of beefy chili. You can do it old school in a cast iron crock over an open fire like I do, or you can use a slow cooker or instant pot (check the size of your appliance first – you may need to half the recipe).
Ingredients: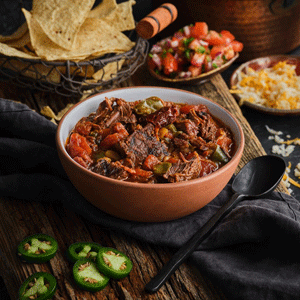 3 lbs (1.36 kg) boneless blade steak or other type of simmering cut like cross rib or short rib
1/2 cup (120 mL) canola or vegetable oil, divided
7 tbsp (105 mL) Ted Reader BBQ Bone Dust BBQ Seasoning Rub (my spice has 13 different herbs and spices with notes of cumin and chili, perfect for this chili recipe)
1 can (473 mL) plus ½ cup (120 mL) craft beer
1 large, sweet onion, diced (you need about 2 cups/475 mL)
2 poblano or green peppers
2-4 jalapeno peppers, seeded and finely chopped if you want the chili to be spicy hot then add some other types of hot chili peppers to give your chili a boost (red bird, hbanero, scotch bonnet, serrano chili)
6 cloves garlic, minced
6 slices of thick cut bacon, diced
4 pieces chipotle chilies in adobo sauce
3 tbsp (45 mL) tomato paste
1/3 cup (80 mL) condensed canned beef broth
1/3 cup (80 mL) BBQ sauce
1 x 14 oz can (398 mL) diced tomatoes, do not drain
Salt and freshly ground black pepper to taste
Toppings (optional)
1/4 cup (60 mL) sour cream
1 cup (240 mL) shredded nacho cheese
1 green onion, finely chopped
Hickory sticks
1 bunch fresh cilantro, chopped
Brush the blade steak all over with oil. Rub with 4 tbsp (60 mL) of barbecue seasoning, pressing the spices into the meat so it adheres. Place the seasoned blade steak into a self-sealing plastic bag, add a can of craft beer. Seal it up and gently massage. Refrigerate for 8 hours or overnight, massaging the meat occasionally to get the flavour in.
Remove steak from craft beer marinade and pat dry with paper toweling. Discard marinade. Add a little more barbecue seasoning rub.
Fire up your grill and get it nice and hot, about 500°F plus (260°C plus).
Quickly sear the meat on all sides, should not take much longer than 1-2 minutes per side.
Remove from heat and allow to cool slightly
Dice the grilled blade steak into ½ to 1-inch (1.4 -3.8 cm) cubes and place into a bowl. Add 2 tbsp (30 mL) of each oil and bone dust BBQ seasoning and mix well, set aside
Chop onion and peppers, mince garlic and set aside.
Heat a large fry pan over medium heat and add diced bacon. Sauté for 4 to 5 minutes stirring occasionally until the bacon is just starting to crisp.
Increase heat to medium high and add diced grilled blade-steak. Quickly sear for 1 to 2 minutes, remove steak and bacon from pan and place into Dutch oven.
In the same pan add 3 tbsp (45 mL) of oil and sauté the onions, peppers, and garlic for 1 to 2 minutes, stirring occasionally until tender. Add 2 tbsp (30 mL) of Bone Dust and continue to cook for another 2 minutes to cook the spices. Add chipotle chilies and tomato paste and stir.
Add 1/2 cup (120 mL) beer and beef stock and bring to a boil. Remove from heat and pour mixture over steak and bacon in a Dutch oven.
Add BBQ sauce, diced tomatoes to the Dutch oven and stir. Cover and heat in preheated 325°F (166°C) oven for 2 hours, stirring occasionally, until meat is fork tender.
Season to taste with salt and freshly ground black pepper and if you want it a little spicier add a few dashes of your favorite hot sauce. To serve top chili with sour cream, shredded cheese, green onions, and hickory sticks and chopped fresh cilantro
Makes approximately 17 cups (4 L).
Tip: if using your slow cooker cook, covered, on low for 8 hours. If using an instant pot, the chili should be ready in 30 minutes.

Source: Ted Reader BBQ