Serves 4
Gear: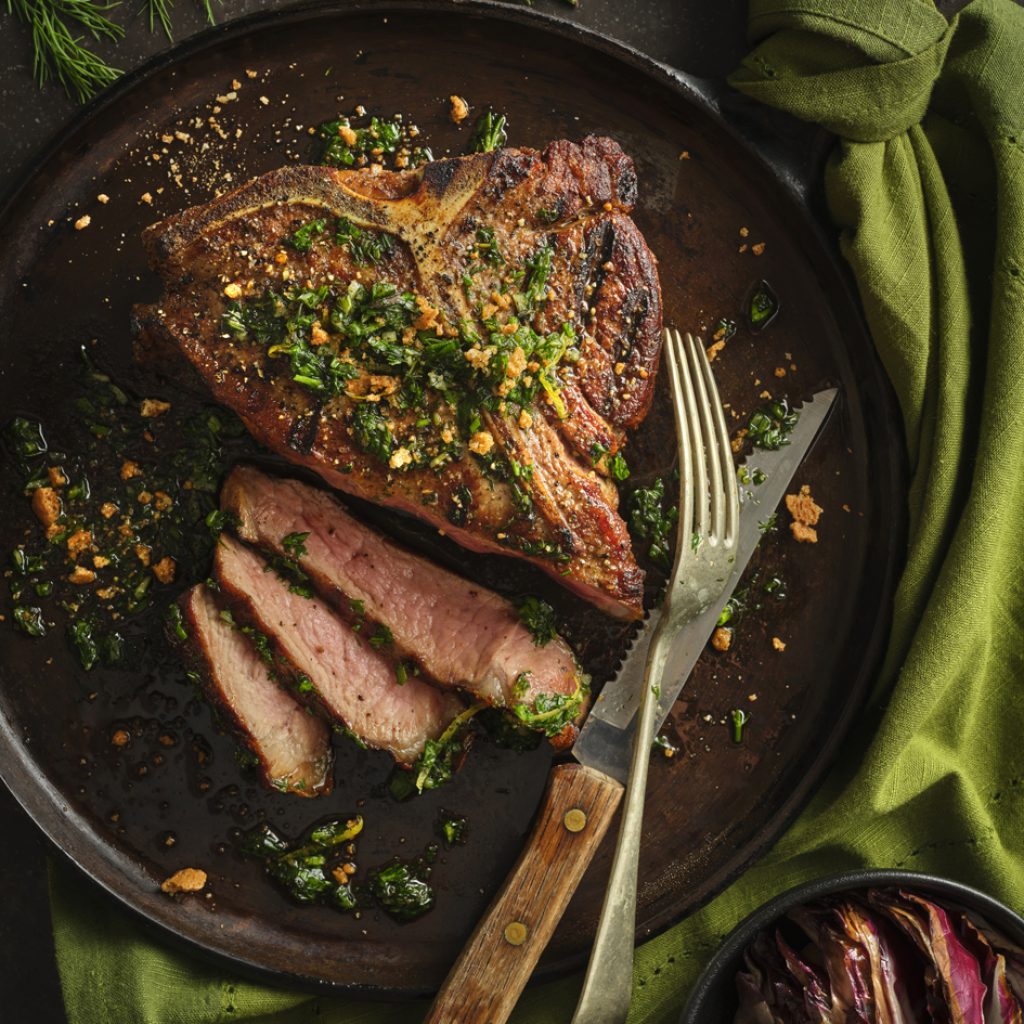 2 cup (500 mL) canning jar
Basting brush
Spoon
Aluminum Foil
Ingredients:
1½ tbsp (22 mL) Ted Reader BBQ Bone Dust Steak spice or your favorite steak spice
10 plump cloves garlic minced, about ¼ cup (50 mL)
1/4 cup each (60 mL) chopped fresh curly parsley, dill, thyme, and chives (or any combination of fresh parsley, dill, thyme, oregano, rosemary, sage, chives, or cilantro)
Zest and juice of 1 lemon (about 1 tsp [5 mL] of zest & 1/4 cup [50 mL] of juice)
1 cup (250 mL) extra virgin olive oil
10 amaretti cookies, crushed into coarse crumbs, about a ¼ cup (50 mL)
4 Ontario veal T-bone steaks (also known as veal loin chops), cut about 1 ¼ inches (3 cm) thick and approx. 10-12 oz (284-340 g) each
Method:
In a canning jar combine the steak spice, garlic and chopped fresh herbs. Add in the lemon zest and juice. Give it a stir. Pour in the olive oil and give it a stir. Seal and refrigerate until needed. Will keep for 3 days refrigerated.
Fire up your grill, get it hot, 500°F (260°C) plus.
Mix the crushed amaretti cookies into the herby garlic grilling oil, give it a good stir.
Brush veal T-bones lightly with olive oil. Spoon about a tablespoon of the herby garlic grilling oil onto one side of each chop and brush evenly over the surface.
With herby garlic oil side down, place the veal T-bone steaks onto the heated grill. As the veal T-bone steaks grill, spoon another tablespoon of the herby garlic oil mixture onto the top of each steak and brush it evenly across the surface of the veal. Grill 5-8 minutes per side for medium rare doneness basting with herby garlic olive oil mixture, as necessary.
Remove from grill and let steaks rest for 5 minutes covered loosely with a sheet of aluminum foil
Serve with extra herby garlic oil mix.
Source: Ted Reader BBQ