Serves 2
Gear: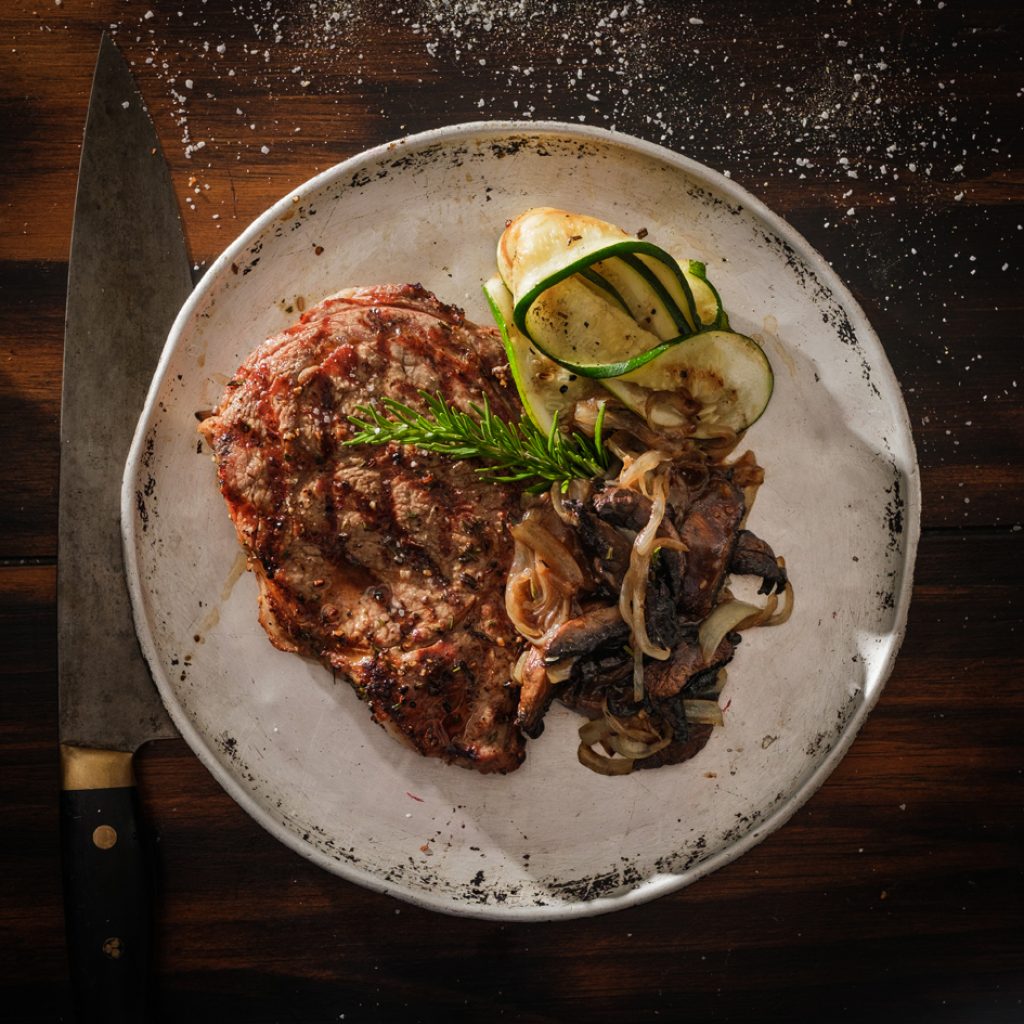 Heavy bottomed fry pan
Ingredients
4 medium sized portobello mushroom caps
3 tbsp (45 mL) olive oil
2 medium sweet onions, peeled and thinly sliced
4 garlic cloves, minced
2 oz (60 mL) whiskey, divided
2 tsp (10 mL) butter
Salt and pepper to taste
4 tbsp (60 mL) chopped fresh rosemary, divided
4 tbsp (60 mL) steak spice. (Note, I use my Bone Dust Steak spice, but any steak spice will do as a substitute)
2 x 16 oz (1 lb) boneless Ontario veal ribeye steaks, about 1 ½ inches (3.5 cm) thick
Method:
Place portobello mushrooms into a bowl and cover with hot water from the tap. Let soak for 30 minutes to 1 hour. This will allow the mushrooms to absorb more moisture so that when grilling the mushrooms will steam and grill at the same time, quickening your grill time and keeping your mushrooms from drying out on the grill.
Fire up your grill to high 550°F + (288°C +).
Remove portobello mushroom caps from water and place onto grill, gill side up. Grill mushroom caps for 4 to 5 minutes per side until the mushrooms are lightly charred and tender. Remove from grill and set aside to cool slightly. Slice grilled mushrooms and set aside.
In a heavy bottomed fry pan, heat oil and sauté the onions and garlic for 4 to 5 minutes, stirring occasionally until the onions are tender. Add in sliced grilled portobello mushrooms and continue to sauté for 3 to 5 minutes longer. Deglaze pan with 1 oz of whiskey and butter, stir to incorporate. Add 1 tbsp (15 mL) of fresh rosemary, season to taste with salt and pepper set aside keeping warm.
In a small bowl combine steak spice and remaining rosemary.
Drizzle veal ribeye steaks with olive oil and season to taste with steak spice and rosemary mixture rubbing the spices into the meat so that they adhere.
Grill veal ribeye steaks for 3 to 5 minutes per side for medium rare doneness. When your steaks are just done drizzle each steak with a little more whiskey to flambe and add a tasty flavor.
Remove from grill and allow to rest for 2 to 5 minutes
Serve with sautéed onion grilled mushroom mixture and your favorite grilled vegetable.
Source: Ted Reader BBQ