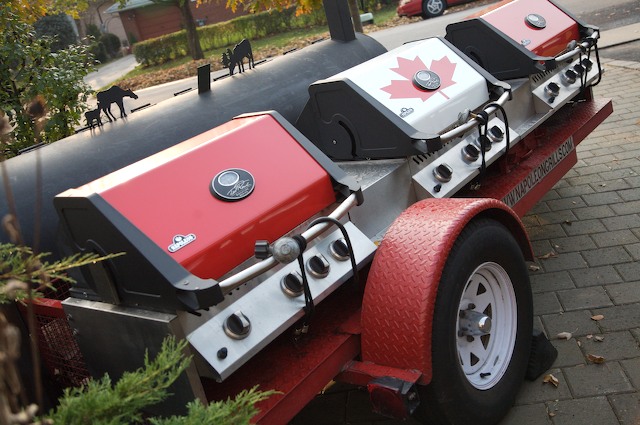 The smoker and trailer were built by Dead Serious Cookers (www.deadseriouscookers.com) in Texas. It's a 10 foot long barrel smoker. It runs on hard wood (hickory, maple, oak, and cherry) and charcoal. Traditional smoker with three smoking doors, however another shelf has been added to it.
This rig holds upwards of 500 lbs of meat. It's traditionally used for low and slow, high volume smoking. It is 100% manual. No fancy gadgets, no electronic smoker units in it. It is pure hardwood manpower. Three (3) Napoleon PT450RBI Grills have been added (www.napoleongrills.com) to the other side of the trailer. Each grill is 450 square inches of grilling space and each grill has the capability of running three different styles of heat;
Propane powered grills that get up to 650 degrees F.
Charcoal powered for when we compete and for real flavour.
Infrared grills that get up to 1800 degrees F for when we really need to crank out some grilled food.
We can plank, rotisserie and beer can on each of these grills as well!
It also has a rocket burner for deep frying turkeys or with the addition of a wok – we can make BBQ fried rice and stir fry's. The rig is the most versatile grill that offers the most in cooking capabilities.