Serves 4
This is a rich and creamy soup made with the great flavors of Miller Lite and smoked cheddar cheese. Quick and easy to make and will take the chill out of any autumn day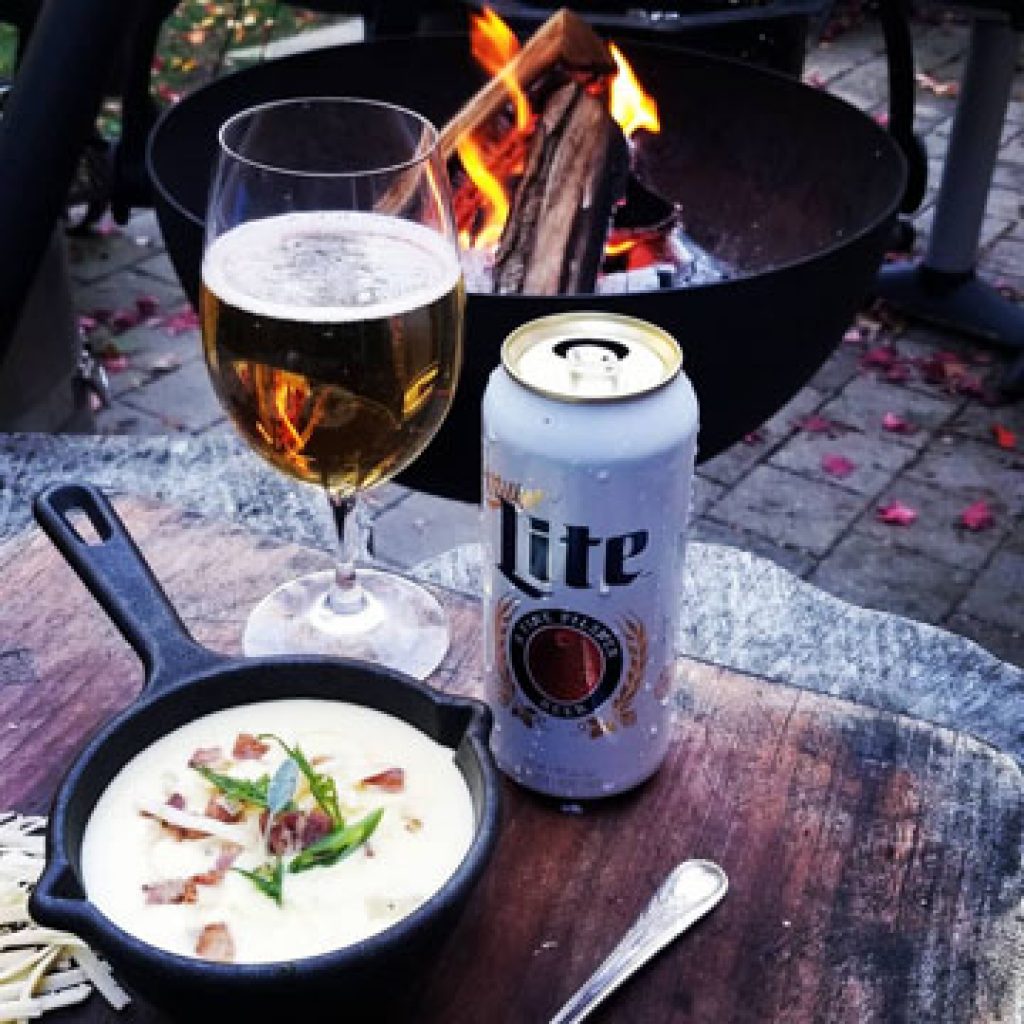 Ingredients
6 slices bacon, cut into ½ inch pieces
4 tbsp. butter
4 cloves garlic, minced
1 medium yellow skinned onion, finely diced
1 stalk celery, finely diced
1 cup grated carrot
¼ tsp. ground cayenne pepper
6 tbsp. all-purpose flour
2 cups Miller-Lite
2 cups chicken stock
1 cup 35% whipping cream
2 heaping tbsp. grated parmesan cheese
2 cups + 1 cup shredded smoked cheddar cheese (or try smoked gouda or mozzarella)
½ tsp. Worcestershire sauce
Few dashes hot sauce
Salt and freshly ground black pepper to taste
Garnish
1 green onion thinly sliced
drizzle maple syrup
Method
In a medium fry pan sauté the bacon over medium heat for about 8-10 minutes, stirring occasionally until the bacon is crispy. Using a slotted spoon remove the bacon from the pan and pat dry with paper toweling. Reserve 1 tbsp. of bacon fat set aside
In a medium sauce or soup pot add the reserved bacon fat and butter and heat over medium until melted. Add the garlic, onion, celery and carrot and sauté, stirring until tender, about 2 to 3 minutes. Add in cayenne pepper and continue to stir for about 30 seconds to incorporate.
Add flour stirring constantly for 2 to 3 minutes. Slowly add the Miller Lite and chicken stock in ½ cup increments, stirring continuously until the mixture thickens. Add cream, bring to a simmer, stirring occasionally for 15 to 20 minutes. Reduce heat to low
Using a whisk, stir in the parmesan cheese,
Add 2 cups of smoked cheddar cheese, ½ a cup at a time, stirring continuously to incorporate
Remove from heat and blend until smooth, return to pot over low.
Add Worcestershire sauce and hot sauce. Season to taste with salt and freshly ground black pepper
To serve garnish with reserved shredded smoked cheddar cheese and crispy bacon, green onion, and a drizzle of maple syrup
Serve immediately