Ingredients: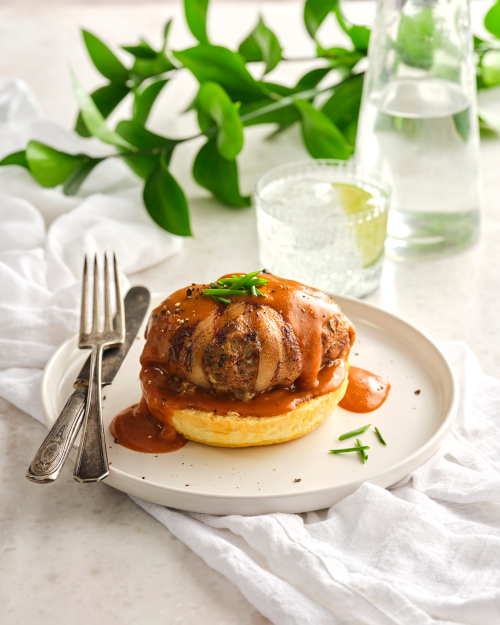 Burgers
1 ½ lbs ground veal
½ lb ground pork
½ cup finely diced onion
6 large cloves of garlic, minced
¾ cup breadcrumbs
3 tbsp ketchup
1 lg egg
2 tbsp chopped fresh sage
1 tbsp potato starch or corn starch, heaped
2 tsp ground black pepper
2 tsp granulated garlic
2 tsp Himalayan salt (or any salt you have on hand)
9 slices bacon, uncooked
Beer BBQ Gravy (makes 3 cups)
¼ cup butter
1 onion, finely diced
1 tsp chopped garlic
¼ cup all-purpose flour
½ cup craft beer
1 ½ cups beef stock
½ cup hickory smoke BBQ sauce
Salt and freshly ground black pepper to taste
Method:
Combine the ground veal and pork, add the onions, garlic, breadcrumbs, ketchup, egg, sage, and potato starch. Add black pepper, garlic, and salt. Mix well and form into 5 equal sized oval patties about 5-6 oz each and about 1 ¼ to 1 ½ inches thick and 4 inches long by 3 inches wide.
Take your bacon and cut 3 in half. Stretch the bacon slices to increase their length. Wrap the half slices around the narrow side of the burger. Wrap the full slice of bacon around the long side of the burger. Your burger should look like a hot cross bun. Cover and refrigerate for 1 hour to set.
Prepare the gravy.
Over medium heat, melt the butter in a saucepan, sauté the onions and garlic for 2 to 3 minutes or until transparent. Add the flour and cook, stirring constantly, for 4 to 5 minutes, being careful not to burn the flour. Add the beer and beef stock ½ cup at a time, stirring constantly, until smooth and thickened. Stir in the BBQ sauce, salt, and pepper. Reduce heat, simmer for 10-15 minutes, stirring occasionally. Adjust seasoning, set aside, and keep warm.
Fire up your grill to 350° F.
Place the burgers over indirect, medium heat, close lid and cook slowly for 10 minutes, turn, and cook for another 10 minutes until bacon is partially rendered and the burgers are starting to firm. Move the burgers onto the direct side of the grill and cook on medium until the burgers are slightly charred, the bacon is crisp, and the internal temperature reads 160° F.
Serve burgers on top of a pile of mashed potatoes or on your favorite toasted bun ladled with beer BBQ gravy.
Leftovers are awesome! Slice and serve between some toasty buns and dunk into the gravy.
Source: Ted Reader BBQ (Recipe at ontariovealappeal.ca)